Why Work is Getting in the Way of ... Work
We're in the middle of a technology and connectivity revolution, giving us access to infinite digital tools and technologies. Is this multitude of technology solutions empowering us to do our best work, or getting in our way?
Workfront's 2020 State of Work report surveyed 3,750 knowledge workers globally to answer this question. Here's what I learned about technology's impact on modern work and what the highest-performing enterprises — work management pioneers — are doing to outpace the competition.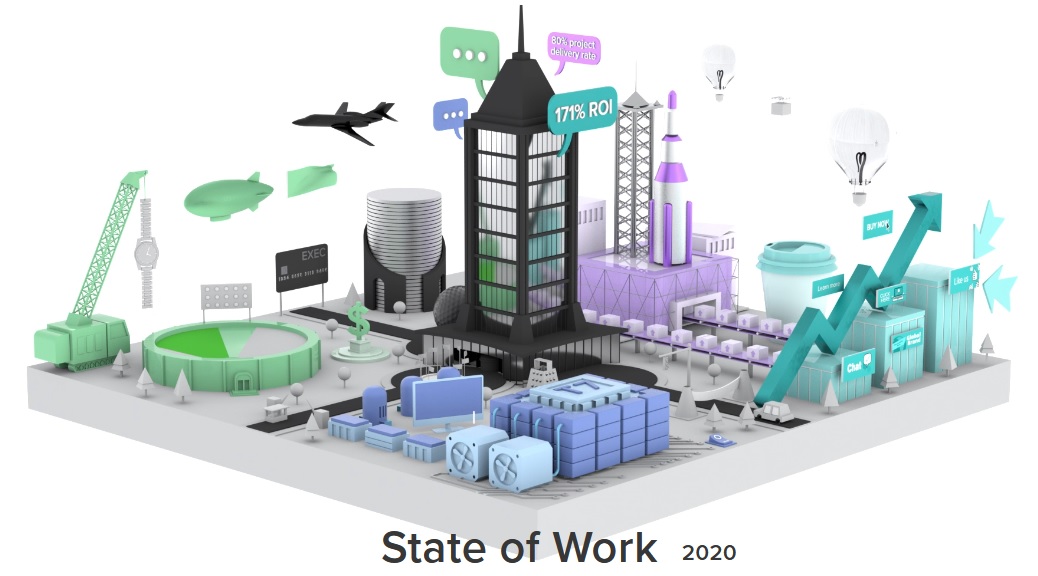 Legacy Technology is Getting in the Way of Work …
The good news: employees are engaged and want to make a strategic impact. 89% of the employees surveyed believe their role matters. 91% are proud of the work they do.
The bad news: they only spend 40% of their time doing the work they were hired to do.
What's impeding their productivity? Much of employees' time is spent trying to determine the specifics and details of what is most important, who they are to be coordinating with, and what the best next action is to move it forward.
But what about all the digital productivity tools that companies are buying to help employees? These tools — email, instant messaging, file storage, and so forth — are actually part of the problem as they have now created exabytes of siloed conversations and data for employees to navigate as they are trying to do their best work.
In addition, we are interrupted almost 14 times a day by digital tools. The Fast Company article, Worker, Interrupted: The Cost of Task Switching, claims that it takes us more than 20 minutes after each interruption to get back to our original task. That's 4.6 hours of wasted time — every day.
Technology can inhibit productivity, but it's also an important part of the employee experience (according to 88% of respondents).
... but Workers Still Crave the Right Solutions
Employees expect a workplace technology experience that delivers on multiple fronts: information access, user experience, personalization, and connection. They want the same consumer ease and simplicity at work that they get from Amazon, Instagram and Google.
Most workers surveyed (91%) crave these modern technology solutions, and 87% think their companies are missing opportunities by not adopting them. Included in the list of solutions that 71% of employees crave is a single place to understand and manage their work; 69% say they don't have that place today. Having one place to manage work is the next frontier of enterprise digital transformation, just as it happened for customer data, business financials, IT operations, and HR talent management.
On the one hand, technology is getting in the way of work. On the other hand, knowledge workers crave modern technology solutions. To navigate this technology paradox during this time of massive digital transformation, look at a fundamental attribute shared by companies that consistently outperform the competition: They deploy work management technology that helps people get the right work done.
High-Performing Companies Deploy Technology That Helps People Get Work Done
In this era of innumerable technologies (i.e., era of digital confusion), leading companies and teams that consistently outpace their rivals let their work management strategy drive their technology strategy.
They go beyond supporting their people with the digital applications and systems they crave, from product design tools to creative suites, by connecting these individual tools into an orchestrated whole, a digital platform for work that supports dynamic workflows and captures information that improves visibility and context.
These work management pioneers share three additional traits:
■ They start with visibility and context. People and teams understand the role they play in strategic company goals because strategy at all levels of the organization is well-defined, informed by data, and clearly communicated. Providing workers with visibility into how their work aligns with company goals drives powerful business outcomes.
■ They actively manage work. People and teams use data, not assumptions, to align and make decisions about status and performance of teams and projects.
■ They focus on agility as a core competency. People and teams work across departmental seams, changing more often, empowering new leaders, and redeploying themselves at the individual, team, or organizational level to drive new market opportunities.
We know that today's knowledge workers are engaged and want to be productive. We also know that they're frustrated with legacy tools that interfere with their productivity, yet still crave modern solutions that free them up to focus on the work they've been hired to accomplish.
To prevent work from getting in the way of work, IT leadership can stop buying tools that add to the digital confusion, and start taking significant steps to harmonize the messy digital landscape by prioritizing systems and best practices that enable the ongoing digital transformation across the enterprise.