CMDB/CMS Use Cases: Change Management and Change Impact Analysis
Change Management and Change Impact Analysis are at the very heart of the CMDB/CMS value set. This includes change management for impact analysis of changes to Configuration Items (CIs) and their associated services, as well as change automation for activating changes (release) management. Many vendors favored one over the other, although Value Leaders did well in both. This category in the radar also included capacity planning and infrastructure optimization in support of service delivery -- an area often requested but until recently not largely supported through CMDB/CMS initiatives.
Other use cases for change management include:
Governance and Compliance: Managing change to support security-related, industry-related and other compliance-driven audits can be even more costly and labor intensive than asset-specific audits. One of EMA's consulting clients estimates that a CMDB in hindsight could have saved them nearly $5 million in consulting costs.
Service Availability and Performance: EMA estimates that roughly 60% of IT service disruptions come from the impacts of planned or unplanned changes across the application infrastructure.
Data Center Consolidation: With the rise of virtualization in the data center, planning new options for data center consolidation is definitely on the uptake. Mergers and acquisitions can also factor in as a driver for data center consolidation.
Disaster Recovery: Automating change in case of disaster is one of the more pervasive drivers for CMDB/CMS initiatives.
Facilities management and Green IT: Extending the role of IT governance to areas external to traditional IT boundaries (facilities, power, etc.) requires core capabilities for capturing CMS-related interdependencies and exploiting the "logical and physical" extensions of CMS modeling.
Support for Provisioning New Application Services: This can include cloud-related service provisioning potentially via service catalogs and blueprints, as well as more traditionally developed (in-house developed) applications. The CMDB/CMS role in supporting Dev Ops is just now beginning to take on new life -- although it's not brand new. I've seen examples of this use case going back as many as five years.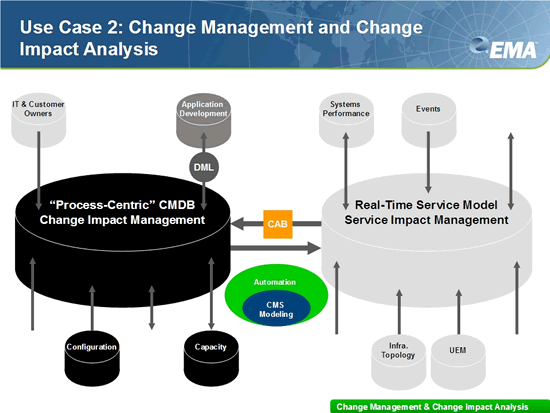 Figure 3: Change Management and Change Impact Analysis pose a greater foundational set of insights into interdependencies, and so application dependency mapping, configuration, asset management and capacity management are all in black. In many respects, it's the heart of what CMDB/CMS capabilities are all about.
The following vendors were Value Leaders in EMA's CMDB/CMS radar:
Axios
Axios received the highest overall score in the radar for Change Management. Among the things that stood out most about assyst were its strong support for third-party integration in discovery combined with a staging area; and its proven integrations with third-party application dependency mapping solutions for service impact analysis -- including those from VMware, BMC, and IBM. Axios also won an award as "Most Balanced CMDB/CMS functionality" across all three use cases.
N(i)2
N(i)2 lead dramatically in Architecture and Integration and Functionality, and was also significantly ahead of average in Deployment and Administration. One way to get a feel for N(i)2's unique depth are the change management histories it keeps beyond traditional IT technology boundaries—such as: slot occupancy in chassis; rack mounting position, power management, WAN circuit, etc. Although it is highly applicable to enterprises, N(i)2 remains best understood to date by service providers. N(i)2 also won the award for "Most Innovative CMDB/CMS Deployment."
Numara
Numara FootPrints scored well above the average in Change Management, leading in Cost Advantage, Administration and Deployment, with scores just slightly under in Functionality and Architecture and Integration. According to Numara, Change Management is its fastest ROI and this was borne out by customer interviews as well. However, it should be pointed out that across the broader FootPrints family, change management and lifecycle asset management are so closely intertwined.
ServiceNow
ServiceNow significantly outperformed the vendor average in all areas. It received best overall score in Deployment and Administration, in the top third for Cost Advantage. It was also well in the top half for Architecture and Integration, and in the top third for functionality. This shouldn't be surprising given its rich automation capabilities (IT Process Automation or runbook plus workflow) combined with its Service-now Discovery and Dependency Mapping. As you may have noticed, this is the second time ServiceNow appears as a value leader.
SunView Software
SunView Software's ChangeGear scored meaningfully above average in Deployment and Administration, Functionality, and Architecture and Integration. SunView was dramatically ahead in Change Management in Cost Advantage. And indeed, no vendor in EMA's radar was more optimally tuned to address Change Management in mid-tier and mid-tier enterprise environments where administration and cost are strong counterweights to functionality and architecture.
Click here to read the CMDB/CMS use cases for Asset Management and Financial Optimization
Click here to read the CMDB/CMS use cases for Service Impact Management