State of Digital Operations: IT Challenges in UK
While the majority of IT practitioners in the UK believe their organization is equipped to support digital services, over half of them also say they face consumer-impacting incidents at least one or more times a week, sometimes costing their organizations millions in lost revenue for every hour that an application is down, according to PagerDuty's State of Digital Operations Report: United Kingdom.
The report also highlighted that an organization's failure to deliver on consumer expectations for a seamless digital experience can greatly affect a company's brand reputation and bottom line.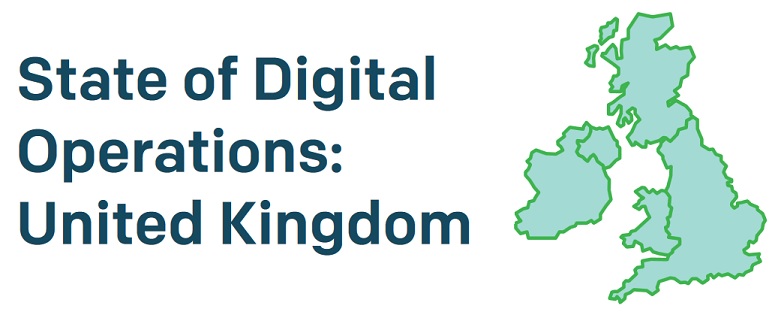 The report found that nearly all (90.6 percent) of UK consumers surveyed use a digital application or service to complete tasks such as banking, making dinner reservations, finding transportation, grocery shopping and booking airline tickets, at least one or more times a week. This finding is indicative of the larger UK digital services landscape — IDC predicts that half of the Global 2000 enterprises will see the majority of their business depend on their ability to create and maintain digital services, products and applications by 2020. In addition, IDC says 89 percent of European organizations view digital transformation as central to their corporate strategy.
"With the rise in digital services in the UK, European businesses need to be ready to accelerate their digital transformation journey and adapt to consumer demands," said Jennifer Tejada, CEO at PagerDuty. "Disrupting brand and engagement experience means lost revenue and organizations need to be proactive versus reactive –– a reactive or automated approach to resolving consumer-facing incidents is not table stakes. Organizations can arm their IT teams by taking a holistic approach to incident response. Solutions that embrace capabilities such as machine learning and advanced response automation can help organizations easily deploy an expedited response to consumer-facing incidents."
IT Cannot Meet Consumer Expectations
The State of Digital Operations Report: United Kingdom revealed that along with the heavy reliance on digital services, UK consumers expect a seamless user experience, and IT organizations are struggling to meet these expectations.
When a digital app or service is unresponsive or slow, many consumers indicated that they are quick to stop using that app or service.
■ 86.6 percent of surveyed consumers said they are likely to temporarily switch to an alternative mobile app or website to complete their task.
■ 81.2 percent of consumers said they would wait just one minute or less for a slow or unresponsive application before leaving to use a different app or service.
■ 66.8 percent of respondents said they were likely to never use a slow or unresponsive app or service again.
Meanwhile, 87.4 percent of IT personnel said their organizations take more than five minutes to resolve IT incidents that impact consumer-facing digital services, putting them at risk of losing users.
The report also revealed that while 72.3 percent of IT practitioners believe their organization is currently equipped to support digital service offerings effectively, 67.1 percent of IT organizations said they face consumer-impacting incidents at least one or more times a week. This places organizations at constant risk of losing customers and revenue due to the length of time it takes to resolve these issues.
The Effects of Downtime on the Bottom Line
IT teams are now at the front and center of providing customers with a satisfying user experience. The report revealed that organizations are making significant upfront investments in tools and technologies that support the delivery of digital services in order to avoid costly performance issues later on. Nearly half of respondents (49.9 percent) reported that their organizations budget £500,000 or more for DevOps and ITOps tools and services to support and manage digital service offerings –– a critical investment as downtime or service degradation can significantly impact an organization's financial success.
■ Over one third of respondents (35.5 percent) said that on average, an hour of downtime costs their organization between £500,000 to £5 million.
■ 14.3 percent indicated an hour of downtime costs £5 million or more.
IT disruptions aren't just affecting the developers, DevOps or ITOps teams responsible for managing digital services performance –– the report shows that the top three non-IT departments most impacted by software issues are:
■ Sales (35.2 percent)
■ Accounting and Finance (32.9 percent)
■ Research and Development (25.4 percent)
The Right Tools, Technologies and Strategy Make Digital Transformation Possible
The report shows monitoring tools are important in helping organizations support digital service offerings effectively. The top three DevOps and ITOps tools used by IT teams to provide the insight needed to prevent disruptions in a customer's digital experience are:
■ Security monitoring (51.1 percent)
■ Infrastructure monitoring (47.9 percent)
■ Application monitoring (41.4 percent)
"In order to fully embrace digital transformation, IT teams need streamlined tools and a tight digital operations strategy," said Steve Barrett, Head of EMEA Sales at PagerDuty. "By adopting and deploying the right tools, organizations can quickly and easily resolve problems before they are customer impacting, helping protect their revenue and reputation while delivering a seamless customer experience."
The report findings are based on a two-part survey of over 300 IT practitioners and over 300 UK consumers on the impact of digital services. The surveys examined what UK consumers expect from digital experiences, how organizations are investing in supporting digital services and what tools IT teams are using to keep these services up and running.