The Unsung Importance of Device Health in Remote Work
As the global pandemic continues, it has become increasingly clear that companies across every industry are planning the "next normal" of their workplace with a much longer-term view. They have moved from serially extending temporary work-from-home (WFH) arrangements to establishing permanent policies focused on empowering people to WFE — work-from-everywhere.
Based on responses from over 100 business leaders polled by Aternity last month on their return-to-office plans, 93.4% said they plan to either remain remote or adopt a hybrid model. Enterprises are giving employees the option to work remotely on a permanent basis and paying one-time bonuses to relocate and set up home offices. They are also reprioritizing technology investments to support a digital employee experience tailored for the work-from-everywhere enterprise.
In our latest volume of the Aternity Global Remote Work Productivity Tracker, we examined data aggregated from millions of employee devices from hundreds of global companies managed via our platform to explore WFE initiatives. Specifically, we wanted to see how work-from-everywhere is influencing technology investments and impacting productivity. Here's what we found.
Organizations Invested Heavily in Laptops
With the shift to remote work becoming permanent, IT must invest in laptops and related technologies to equip employees to be true digital nomads who can work from everywhere. The figure below illustrates the trend in usage away from office-based desktop computers toward laptops. It shows that the vast majority of employees used laptops in all industries except education even prior to the pandemic, and laptop usage naturally increased with the shift to remote work.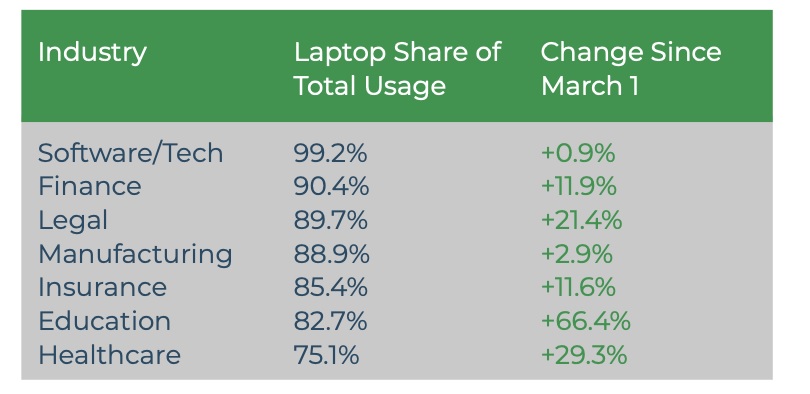 Education realized a huge jump in laptop usage in July, coinciding with the spike in remote work. This is when districts across the country prepared for the remote learning options or mandates now in place for the current school year.
While the percentage of employees using laptops is lowest in healthcare, the current upward trend provides more evidence that telehealth is here to stay.
It's useful to examine what devices employees use by the generation of the CPU on which they are built. Although Gartner forecasts that spending on devices would drop 11% in 2020 due to budget constraints, our data provides a different view.

Enterprises are accelerating the deployment of newer generation devices since shifting to remote work. Normally, organizations deploy new devices that are two generations ahead of those being replaced. Since March, use of devices with 8th, 9th, and 10th generation CPUs increased by 13.7% as compared to before the pandemic. This corresponded with a 10.8% decline in use of 6th or earlier generation devices, and a small 2.9% drop in usage of 7th generation CPU-based machines.
The Positive Effect of Device Modernization on Employee Productivity
Web page load time is a key metric that affects employee productivity. Many factors impact the amount of time it takes a web page to load — ie. the performance of the user's device, the network they use to connect to the page, and the design and performance of the web page or application itself. The abrupt shift to remote work required adjustments to be made by employees, corporate IT departments, and network and content providers.
As this graph shows, these adaptions follow a distinct pattern, for every generation of user device.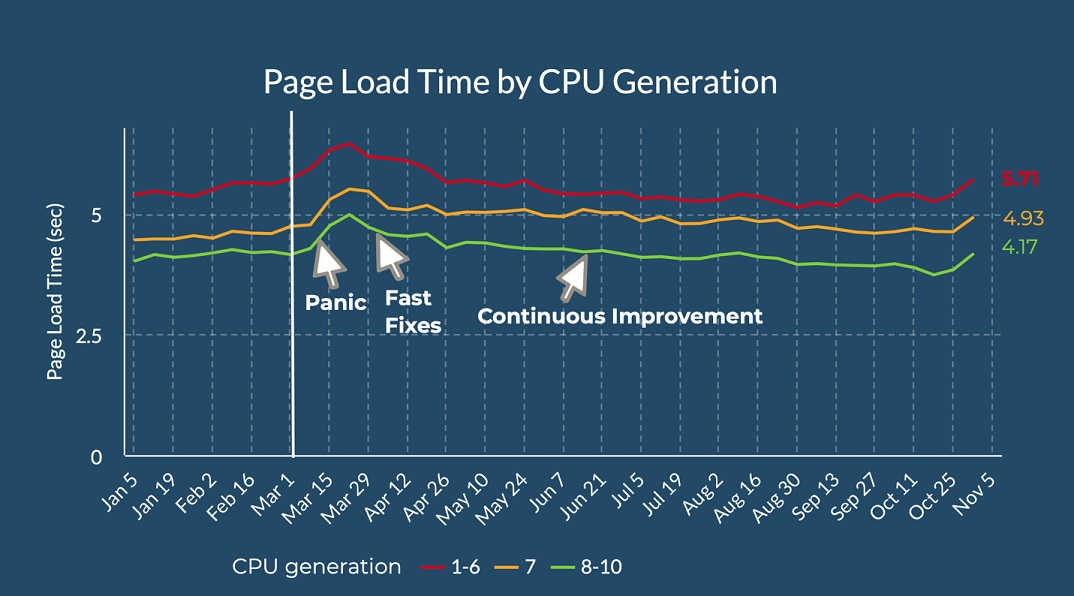 Panic (mid-March) - Page load time increases as employees are sent home with the laptops and WiFi services on hand. Network congestion increases due to the volume of remote work and the likely massive increase in Netflix content consumed by people confined to their homes.
Fast fixes (next two weeks) - Tactical actions produce improvements. IT acquires whatever laptops they can lay their hands on, and scales and optimizes VPNs. Employees enhance their WiFi connections. Network and content providers make reactionary improvements, such as Netflix reducing screen resolution to improve network congestion.
Continuous improvement (May to now) - CIOs are now planning for long-term WFE as the next normal by optimizing application performance and investing in new devices for employees who need them most.
Employees working on devices based on newer generation CPUs spend 37% less time waiting for pages to load, as compared to those on 6th generation or older devices. This results in a productivity gain between 3 minutes to an hour per employee per day, depending on the extent to which employees rely on web-based applications for their jobs. Investing in newer generation devices is a way to counteract the remote work productivity tax we saw emerging over the summer.
As businesses continue down this path, it's important to note that average performance doesn't tell the whole story. Each employee will have their own unique digital experience based on many factors, including CPU, WiFi signal strength, ISP speed, device characteristics and the performance of the applications they are accessing. Our data provides proof that IT leaders must not only ensure the right apps are delivered to employees within their digital workplace but that their device is in good enough shape to handle them.