2023 Application Performance Management Predictions - Part 5
Industry experts offer thoughtful, insightful, and often controversial predictions on how APM, AIOps, Observability, OpenTelemetry and related technologies will evolve and impact business in 2023. Part 5 covers AIOps.
Start with: 2023 Application Performance Management Predictions - Part 1
Start with: 2023 Application Performance Management Predictions - Part 2
Start with: 2023 Application Performance Management Predictions - Part 3
Start with: 2023 Application Performance Management Predictions - Part 4
ECONOMY DRIVES AIOPS ADOPTION
If 2020 saw a 7x increase in the pace of digital transformation because of COVID, 2023 will see a similar acceleration in AIOps adoption because of the recession.
1. Due to the current economic climate and an increasing number of tech and IT layoffs, in 2023, the risk of IT outages will inherently increase as enterprises are forced to do more with less. These outages will lead to longer, more frequent business disruptions that impact customer experiences and cost organizations almost $13,000/minute or almost $1.5m for a typical 2-hour outage. Because AIOps has been proven to reduce the frequency, duration and impact of outages, enterprises will get serious about bringing it into their organizations in 2023.
2. Scaling through technology and headcount will be one of the major themes in 2023 across IT, and especially in ITOps. ITOps and NOC headcount budgets will be flat but there will be more IT noise, more incidents and more outages to deal with. Once again, AIOps has been proven to augment human bandwidth and this will accelerate AIOps adoption in 2023.
3. Finally, in order to cut down on waste and cost overruns, enterprises will be forced to revisit their existing observability and network monitoring tools, re-assess their value (or the lack thereof), and identify and eliminate low-value tools and redundant tools.
Once again, AIOps platforms can provide a data-driven basis for making those tool rationalization decisions — and why enterprises will embrace AIOps in 2023.
Mohan Kompella
VP Product Marketing, BigPanda
Read the feature: AIOps' Certainty in an Uncertain Future

Given the downward economic situation, in 2023 more IT teams will be looking for Cost Avoidance solutions across the board. This is where AIOps comes in as it enables IT teams to resolve issues faster, leading to improved site reliability and performance and cuts back on costly system outages.
Lisa Wolfe
Product Marketing Director, AIOps, ServiceNow
DEMAND FOR AVAILABILITY DRIVES AIOPS ADOPTION
The pandemic sparked an evolution in how society works and created a dependency on digital technologies. If digital technologies are unavailable, society cannot produce; when there's an outage, we can no longer do our jobs. Digital technologies supporting our increasing remote collaboration need to be available 24/7, especially in industries like health, transportation and education. This demand for availability means: businesses will need AIOps solutions that sift through massive amounts of data to discover and predict when failures are imminent and prevent downtime before it happens.
Eric Brousseau
VP of Product, Moogsoft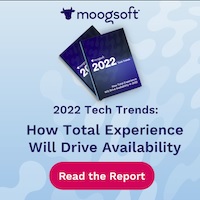 BARRIERS TO AIOPS DECLINE
In 2023 adoption of AIOps capabilities will increase as implementation barriers decline and organizations see clearer value from their investments. AIOps will enable IT operations to support increasingly digital businesses by intelligently analyzing large volumes of data, learning system behaviors, and automatically recommending actions both proactively to prevent system failures as well as faster MTTR and MTTD if issue does occur. As a result, organizations can embrace new application architectures and increasingly complex, hybrid ecosystems while ensuring that IT operations keeps pace with the needs of the business and evolving customer demands. This enables great customer and employee experience for both systems of engagement and systems of record environments.
Ali Siddiqui
Chief Product Officer, BMC Software
NEXT BIG THING IN AIOPS: AUTOMATED REMEDIATION
The next big thing in the AIOps industry is automated remediation across the full stack of hardware and software components. Today we have methods to predict potential incidents as situations across some components. Tomorrow we will be able to both predict and remediate across all components.
Eric Brousseau
VP of Product, Moogsoft
ONLY TRUE AIOPS SOLUTIONS ENABLE SELF-HEALING SYSTEMS
Most products claiming that they have AIOps technology only focus on events and/or application performance monitoring — a tiny part of AIOps. These "solutions" will not stand the test of time. Only AIOps solutions encompassing all four classic telemetry inputs (all parts of the incident lifecycle from detection to resolution) will get closer to the holy grail of self-healing systems, and radically reduced MTTX.
Phil Tee
Chairman, CEO and Co-Founder, Moogsoft
Read the blog from Phil Tee: Businesses Are Double-Invested in Monitoring – and Leaders Don't See It
AIOPS WILL NOT (AND SHOULD NOT) BECOME A STEPPING STONE TO NOOPS
The idea of "lights out operations" became a popular goal for businesses to achieve, one that would allow a business to run 24/7 without the need for humans, unless intervention was completely necessary. And in the early days of DevOps, the idea of "NoOps" became a popular aspiration, where you wouldn't need a team to oversee the development life cycle because everything is automated. But the idea made many CIOs run for the hills, and while there is still some desire for a self-service model that incorporates so much automation that you no longer need a team of people to service and deploy operations, NoOps goes too far, taking the power of humans with technology completely out of the picture. Instead, AIOps will emerge as the better common ground; it's an augmentation that brings context to teams and provides recommendations to inform decision-making and actions. AIOps will couple the power of technology and human thinking together to help businesses tackle their most complex challenges.
Heath Newburn
Distinguished Field Engineer, PagerDuty
AIOPS PROVIDES RECOMMENDATIONS
AIOps frameworks will evolve in 2023 to provide recommendations to enable the operations team to react faster rather than wait for predictions that are unknown and unexpected. These recommendations will be quantified based on human feedback and re-purposed into the AIOps platform for more accurate recommendations.
Prasad Dronamraju
Director of Technical Product Marketing, OpsRamp
In 2023 and beyond, we'll see more businesses apply AIOps as the "recommendations engine" to help operations teams navigate our complex world. It will become the force multiplier that helps businesses automate away the mundane, time-consuming work and allow their human assets to shine more than ever before.
Heath Newburn
Distinguished Field Engineer, PagerDuty
AIOPS SUPPORTS NETOPS
While the adoption of AIOps as a key component of network operations has increased over the past few years, an explosion of data and a dearth of network engineers will accelerate that trend in 2023. We will see increasing use of AI in networking and network event management systems evolve into more intelligent AI recommendation managers that are used to help fill gaps and simplify operations.
Bob Friday
Chief AI Officer, Juniper Networks AI-Driven Enterprise
AIOPS SUPPORTS DEVOPS
As technology adoption accelerates and its applications and use cases broaden, we'll see more teams leverage technology to increase the speed of software development. Specifically, AI and ML tools will empower software engineers to use automated code review or unit test code generation solutions to expedite feature development and definition of done (DoD) checkpoints. Looking ahead to 2023, teams will experience sizeable payoffs by increasing the use of AIOps technologies to push projects forward. For example, product departments can turn to AI to predict usage patterns and outages, classify production errors, and optimize daily activities, creating more synergies across DevOps and product. Additionally, by expanding the use of AI/ML, teams can rely on "no coders" to develop software and test automation code through sophisticated modeling of apps and other intelligent code-generation techniques, creating a stronger link between IT teams and the organization.
Eran Kinsbruner
Chief Evangelist, Perforce Software
Go to: 2023 Application Performance Management Predictions - Part 6, covering more on AIOps.