5 Steps to Get Your Network Ready for the World Cup
It's been four years since the last World Cup and more than a few soccer fans around the globe are eagerly awaiting the big kick-off later this week in Brazil. According to FIFA (the Fédération Internationale de Football Association), 909.6 million television viewers watched at least one minute of the last World Cup final in 2010 between Spain and the Netherlands from their homes. Considering how many people watched from pubs and other public venues, the total number of viewers topped a billion, or about 1 in every 7 people on the planet. Even more impressive, according to FIFA, nearly half of the world's population tuned in for at least a brief time to watch one of the 64 World Cup matches that year. For a point of comparison, the highest-rated Super Bowl in 2012 drew 111.6 million viewers when the New York Giants took on the New England Patriots. (To avoid confusion, only we Americans refer to the sport as "soccer" while the rest of the world knows it as "football".)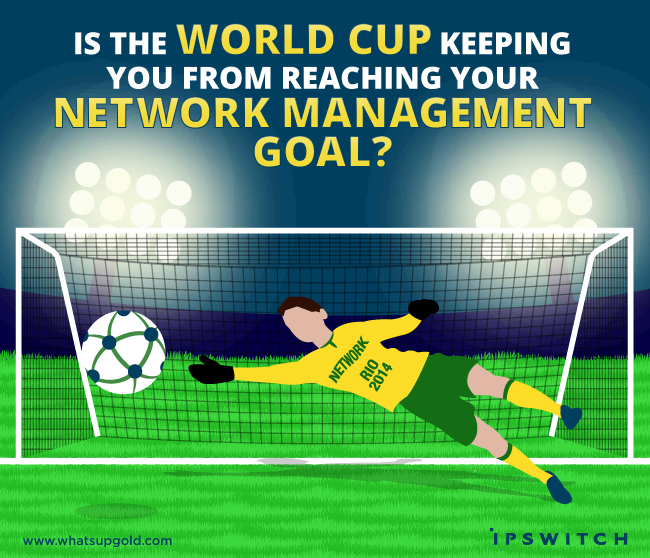 So what does the World Cup mean for your network? A great deal actually. A lot has changed in the past four years when it comes to how people watch sporting events and entertainment. Back in 2010, television was the predominant medium. Fast forward to present day and online video is competing fiercely with TV with viewers watching anything from the morning news to Saturday Night Live on their laptops, tablets and smartphones.
World Cup matches will often run during the American work day. You can bet that many of your employees will be streaming games and highlights across your network on their personal devices or company-issued laptops. As a result, traffic spikes will cause wireless bandwidth issues, network and application performance will take a hit, and along with that, so will employee productivity. Factor in the deluge of resulting help desk support calls and a little pre-emptive strike will go a long way.
Some companies will block access or create policies that prohibit workers from streaming media for entertainment purposes. However, this kind of blacklisting isn't the right approach. For one reason, it's complicated to differentiate between streaming content that helps people do their jobs and that which can distract them from the task at hand. There are easier ways to deal with the issue that allow a workforce to stay connected to the World Cup.
Here are five steps network managers and administrators can take to help prepare for the world's most watched online event:
1. Game Plan
The best place to start is by educating the workforce on the potential adverse effects of live streaming on the company. To help alleviate the strain on the network, keep a TV in your company's cafeteria or break room turned on to the World Cup at all times.
2. Stick to the Rule Book
Self-regulation is much better than imposed regulation; however, modifying existing company policies for Internet access is a good fall-back option to ensure network capacity is not negatively impacted.
3. Watch the Field
Use available tools to keep a close eye on the action. Consider monitoring traffic by port number, IP address or data packet. This will help track, control and balance bandwidth usage. Most organizations already have some level of application monitoring and network management tools installed, but often they aren't being used effectively. These tools can balance recreational use of network bandwidth with that which is mission-critical to the organization.
4. Follow Form
In order to defend yourself in the contest for available bandwidth you must be able to identify the source of the problem. Check to see if your application and network monitoring software can alert you when bandwidth demands suddenly spike, and then check to see if you can drill down to identify the user or users causing the spike.
5. Yellow Card, Red Card, Off
Once you know your bandwidth players, a few polite words shared regarding company policy will often suffice. If that doesn't reduce demand, go to the next level.
If you follow these simple steps in preparation for the World Cup, you can avoid turning your colleagues into a bunch of soccer hooligans.
ABOUT Ennio Carboni
Ennio Carboni is Executive Vice President, Customer Solutions at Ipswitch. He is the company's lead strategist to ensure customer success in their use of IT management and file transfer solutions, while leading the worldwide global sales organization. Most recently, Carboni was president of the Ipswitch Network Management Division where he was responsible for strategic direction and management of the business. Since joining the company in 2005, Carboni led the division to 300% revenue growth. Prior to Ipswitch, he held leadership positions at CA, IMlogic (acquired by Symantec) and RSA Security where he led product development for the company's most innovative Internet security solutions. Carboni holds an MS in Criminology and an MBA in Business Administration from Northeastern University.