CMDB Systems in the Age of Cloud and Agile - Why We Wrote the Book
Everyone presumably loves a good mystery. And in fact the questions "What is a CMDB?" and "What is its relevance in the age of (cloud) (agile) (fill-in-the-blank)?" often provoke such conflicted industry responses that they do suggest the presence of some mystery underfoot.
But we didn't set out to write a mystery novel per se. Instead, CMDB Systems: Making Change Work in the Age of Cloud and Agile is designed to serve as both a guide and a chronicle of real-world experiences — honoring the mystery by sharing different points of view, while trying to help our readers optimize their CMDB planning for what is increasingly becoming a positive and successful initiative.
What Are We Really Talking About When We Say "CMDB Systems?"
In the words of one of my industry colleagues, the elusive "CMDB unicorn" can possess magic charms, but remains too often a mythic beast. In the popular imagination, the CMDB, or configuration management database, is too often a dumping ground for data that will presumably find value once it's aggregated — which is something like buying a car without knowing how to drive and expecting to go on a road trip. The results have often met with failure, and indeed, "failure" is the first word of the book.
The name itself doesn't really help the case. Taken from the IT Infrastructure Library (ITIL) the configuration management database isn't about configuration management in the common vernacular, and it is really much more than a database. The term works well within ITIL's specific guidelines, but unfortunately it's too often a misnomer once it's taken out into Main Street.
CMDB Systems — as we have come to understand them — require a way of reconciling multiple sources into a modeled view of physical and logical interdependencies. This is becoming an increasingly automated and dynamic capability in many deployments. Moreover as a federated set of resources, CMDB Systems may in some cases involve mashups as much as data stores for certain use cases.
From a process perspective, CMDBs require a more collective, service-aware way of working that should help to prioritize changes, enable more effective capacity planning, and help to accelerate IT's ability to address critical business and IT initiatives. These may range from the move to cloud, to data center consolidation, to improved business service performance, to name a few.
But successful deployments don't try to do everything at once. They build from use case to use case in a manner suited to their own, unique environmental requirements — which underscores our reasons for making "CMDB Systems" plural. It also lies behind our preference for not calling them "single sources of truth" but use-case-driven "systems of relevance".
Like IT organizations, CMDB Systems are not generic, but vary based on use case, scope, resources and even culture. While the term and concept for CMDB is a creation of ITIL, one of the people interviewed in our book led a development team and purchased a CMDB to force operations to become more agile — using scrum!
Why Did We Feel That WE Should Take All This On?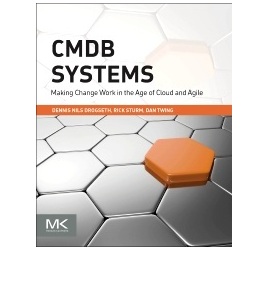 We had more than a mystery of definitions and intentions on our hands when we began writing the book. Enterprise Management Associations has spent more than a decade researching CMDB-related adoptions and providing consulting services to IT organizations with CMDB initiatives. We built on that experience in order to develop our book, and continued to enhance our learning curve with fresh interviews and dialogs with both vendors and IT. In the spirit of the elusive unicorn, our own vision of the CMDB continued to evolve with these new insights, giving the work a journalistic feeling for discovery rather than making it a cut-and-dried academic tutorial. Our goal was as much to paint a landscape as it was to provide a checklist — although we tried to be conscientious about doing both.
Is CMDB/CMS More Relevant Than Ever?
Do we truly believe that in 2015 the CMDB/CMS is more relevant than ever in the real world, or is it still a magic unicorn, more myth than beast?
In answer to this I'll provide just a few data points. In Ecosystem Cloud: Managing and Optimizing IT Services Across the Full Cloud Mosaic (EMA 2013) data showed that those very successful with their cloud deployments were nearly twice as likely to have CMDBs and/or ADDM capabilities deployed as those who were less successful.
Data just in from EMA research (and therefore not available to us when we wrote the book), shows the following:
■ 80% owned or were about to purchase a CMDB/CMS-related technology. Two years ago it was only 52%.
■ Performance-related service impact edged out asset management and change management as the prime CMDB-related use case for the first time ever in our research.
■ 79% have deployed, or had plans to deploy ADDM.
■ Those who were extremely successful were twice as likely to have a CMDB-related technology deployed as those who were not successful.
■ Those who were only somewhat or not successful were 20 times less likely to have ADDM deployed or in plan.
Has the elusive unicorn come out of the forest yet? And is it ready to do more than merely inspire a hopeful myth? Our data, our conversations, and our consulting experience over the years would suggest, strongly, that the answer is indeed: yes. We hope our book will serve as both a guide, and as a stimulant to industry dialog — to help IT emerge into this new era of mobile, cloud and agile far more proactively, while standing on much more solid ground.