Maximizing eCommerce ROI: Understanding the Latest Trends
This is part 2 of the multipart blog series explaining trends in eCommerce as a result of underlying trends in technology and how ecommerce providers can maximize ROI with the help of proactive performance monitoring.
Start with Part 1: Maximizing eCommerce ROI with Synthetic Monitoring
In the last post, we learned about the eCommerce opportunity, its spread across all industries and the nature of eCommerce ecosystem. In this blog post we will see the trends in eCommerce and how you can thrive in your business with the help of proactive performance monitoring.
Your Customers Are Getting Impatient
Because good things come to those who refuse to wait! Your customers don't want to wait as your website takes more than a blink of an eye to load. They won't forgive you for slower websites or ill-functional apps.
In a survey done by Internet Retailer the majority of Americans said: " ..in a real shop, they would wait in line for no longer than 15 minutes. However, on the web, over 25% will abandon a webpage that takes more than 4 seconds to load."
... 40% will abandon a webpage that takes more than three seconds to load. And when it comes to mobile apps, customers will move on if an action takes more than 300ms to complete. IBM holiday recap report found that the bounce rate is increasing and the conversion rate is decreasing. Over the past few years, we have seen the cart abandonment rate increase to 75% in 2015.
Early this year, Business Insider reported that $4 trillion worth of merchandise will be abandoned in online shopping carts this year. And savvy eCommerce providers can recover about 63% of it.
What can a savvy eCommerce provider like you do to bring back your money?
See It as the Customer Sees It
The individual components of your eCommerce might be working well, but what happens when it all comes together? Proactively monitoring your web and mobile applications exactly as seen by the customers gives you a clear picture of user experience. Monitor actual user transactions and not just the components that support them. Be ready for whatever challenge your customers throw at you.
Tip: Monitor your web and mobile applications at the real browser level, where all the moving parts of the applications come together. Monitor from where your customers are or where they will be, taking into account the user experience.
Holiday Season is a Marathon, Not a Sprint
Gone are the days when retail just worried about the peak demands during Black Friday. This fascinating report on last holiday season done by Custora revealed that Black Friday and Cyber Monday only generated 10% of the Holiday revenue. The rest, 90% was generated over the period of 58 days.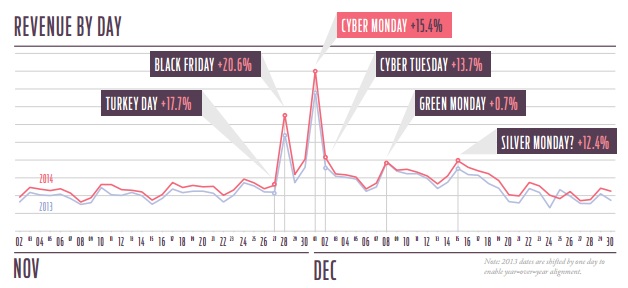 As eCommerce expands across all industries, the peak seasons change. As you go abroad, your peak seasons and times of operation change. Now your customers celebrate Chinese New Year or International Singles Day or Earth Day.
Tip: Don't wait for your holiday or peak season to start monitoring and optimizing performance of your eCommerce offering. Continually monitor, understand and improve your applications for all expected and unexpected peak seasons.
Make Room for New Holidays
This year we saw a brand new holiday called Amazon Prime Day. Walmart immediately mocked Amazon about it and both eCommerce providers saw a peak in traffic. Amazon claimed that Prime Day was bigger than Black Friday 2014.

Was it successful or not is beyond the scope of this blogpost. But it was indeed a great example of performance testing in production. It may seem like a distant future for your industry but it's closer than it appears. We believe that these "retailer specific" holidays will become the new normal going forward. This gives companies a chance to test their applications and the infrastructure that supports it in real time. So when the actual peak season comes, they can be better prepared.
Tip: Performance testing in production is here to stay. Not everyone has the resource strength of Amazon and Walmart but depending on your industry, customers and nature of business, you can execute some flavor of it and become the pioneer.
Read Part 3: Maximizing eCommerce ROI in the Age of the Customer
Priyanka Tiwari is Product Marketing Manager, AlertSite, SmartBear Software.