Catchpoint's 2024 SRE Survey returns for its sixth consecutive year. Take the survey to participate in the industry's original, genuine and independent global study on all things SRE.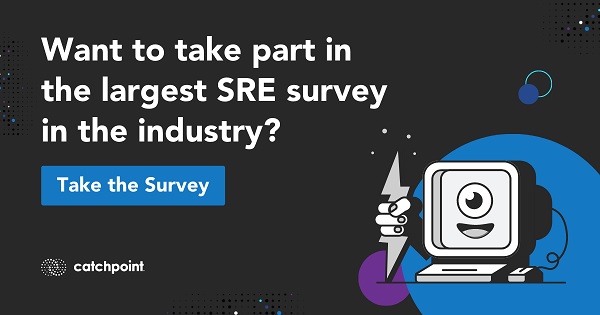 As the pioneers in conducting the annual SRE survey, Catchpoint takes pride in witnessing the growth and recognition of site reliability engineering, inspiring others to contribute their perspectives and insights.
Last year, over 550 reliability practitioners took part in the survey, and this year Catchpoint aims to surpass that number and gather an even larger pool of responders. By sharing your experiences and perspectives, you play a significant role in shaping the future of site reliability engineering.
This year, Catchpoint is eager to gain even deeper insights into your perspective on the priorities shaping SREs within your organization.
Who should take the survey?
When the survey initially launched, the focus was primarily on professionals with SRE titles or similar roles. However, as resilience engineering and reliability practices have gained broader acceptance, they have transcended specific job titles. Even before Google introduced the SRE term in 2003, there were passionate individuals committed to software reliability. Consequently, the invitation is extended not only to SREs and Production Engineers but also to DevOps Evangelists, SysAdmins, and anyone else actively engaged in this vital domain. Catchpoint values your unique perspectives and insights, and your participation will greatly enrich the depth and breadth of the survey findings.
What's in it for you?
Catchpoint will donate $5 to the International Red Cross for every survey completed
By participating in the 2024 SRE Survey, not only will you be actively contributing to the industry's longest-running SRE Report, but you'll also help in providing actionable solutions for organizations worldwide. As a token of Catchpoint's appreciation, the company will donate $5 to the International Red Cross for every survey completed. Help make a difference by sharing your expertise and supporting a worthy cause.
All contributions will be aggregated and kept confidential.
Key findings from past SRE reports

2018- The one that started it all.
The report found that there was no one "typical" background or skill set for resilience engineers. Nonetheless, 64% of survey respondents had previously held a role as a SysAdmin, perhaps a surprising statistic given that most SREs report to the engineering department, not operations. SREs felt their job contributed to core business values but lacked understanding and respect within the organization.
2019 - The one that shone a spotlight on resolving incidents
While it was clear that organizations are focused on building resilient systems and recovering quickly, the survey found that the impact of incident management on employees is significant and highly stressful. Moreover, most companies do not effectively ameliorate these effects.
2020 - The one about working remotely post COVID-19
After being forced into a remote arrangement, over half the respondents did not see a need to return to the office to carry out their duties. Other findings centered on the importance of designing observable systems to prevent service disruptions instead of purely reacting to outages and the need to continuously work to overcome the entropy (or quicksand) of reactive operational work.
2021 - The one that highlighted the need for Platform Ops
With the growth of third-party reliance and internal platform engineering teams to enhance developer productivity, allocating reliability engineering cycles to make these platforms reliable in themselves was shown to be an important trend. Also, connecting the resilience work that SRE teams do to direct business-valued capabilities was highlighted as a key way to demonstrate the value of reliability efforts.
2023 - The one where practitioners and management misaligned in several key areas
A running theme behind the averages was a misalignment between practitioners and management in areas such as the value received from AIOps, how much of a problem tool sprawl is, and the perception of blamelessness. The report also revealed that organizations that operate with a "just culture" are 500% more likely to be Elite performing organizations.